**

IMPORTANT:

Clariti 1 Day Toric lenses are made especially to fit your eyes (Prescription). the lenses require a period  of 5

–7 week

to be  delivered , and these custom-made lenses cannot be modified, cancelled, returned, or exchanged. Please double-check your prescription before placing your order!
The high Dk/t of silicone hydrogel, now as affordable as 1 day hydrogel
Provides 100% of the oxygen the cornea needs3 for whiter4, brighter eyes for your patients
Offers consistent stability and excellent optical performance
Supports excellent, all-day comfort
Built-in UV blocker1
Gives FRP SiHy patients a more convenient replacement schedule without sacrificing the breath ability their eyes are used to
The world's first silicone hydrogel 1 day toric contact lens. Priced like 1 day hydrogel.
Offer your patients excellent optics for excellent performance.
With clariti® 1 day toric contact lenses, you can offer your astigmatic patients excellent lens performance with: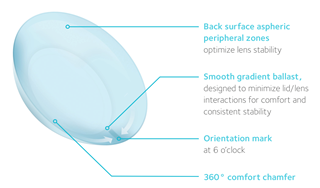 Precise design for a precise fit
High-precision lens manufacturing process for excellent optical performance and consistent correction of astigmatism
Improved quality of vision through aspheric and toric optics designed to reduce eyes' natural spherical and astigmatism aberrations